The Picual oil is originally from Jaén and has become one of the most widespread and abundant varieties in Spain, since its production represents practically half of the national oil production. It is one of the most powerful oils in the mouth and of great quality, very healthy for the body. It stands out for the intensity of its flavor, in which bitterness predominates, and the touch of spice that it leaves after tasting. The Picual Oil with PDO Guiradoli Sierra de Cazorla has particular characteristics that differentiate it from other varieties, due to its cultivation origins in the Sierra de Cazorla, a land rich in limestone, with an average altitude above sea ​​level and with cold weather winters.
The  Picual oil is a variety that can cause some rejection in those who are not used to consuming olive oil regularly, due to its bitterness and itching, but it will captivate the most exquisite palates thanks to its intensity, capable of enhancing the flavor of any dish.

General characteristics

of the variety of

Picual Oil from Cazorla
It is extracted from the picual olive, which receives this name for its characteristic ellipsoid shape. The olive grove of this variety is vigorous and dense in the crown, very resistant in all types of soils and easy to collect, characteristics explain its predominance.
The fruit, which turns black when ripe, is of a medium size (smaller than the hojiblanca variety). It has a high fat yield, which is why it produces a greater quantity of oil than other varieties of olives.
The taste qualities of this variety of oil are unmistakable, as its strength and body make it one of the most intense; When tasted raw, the initial sweetness gives way to a bitter sensation in the mouth and a certain itchiness in the aftertaste.
The aromas, somewhat woody, remind of the tomato plant, the freshness of the artichoke and tomato.
The color varies depending on the time of harvest and the cultivation field, but greenish tones predominate, with less presence of yellow in the earlier harvest oils. Regarding its composition, Cazorla Picual oil has better chemical characteristics than other olive varieties: a high concentration of oleic acid and a greater amount of polyphenols, making it a highly recommended oil for health.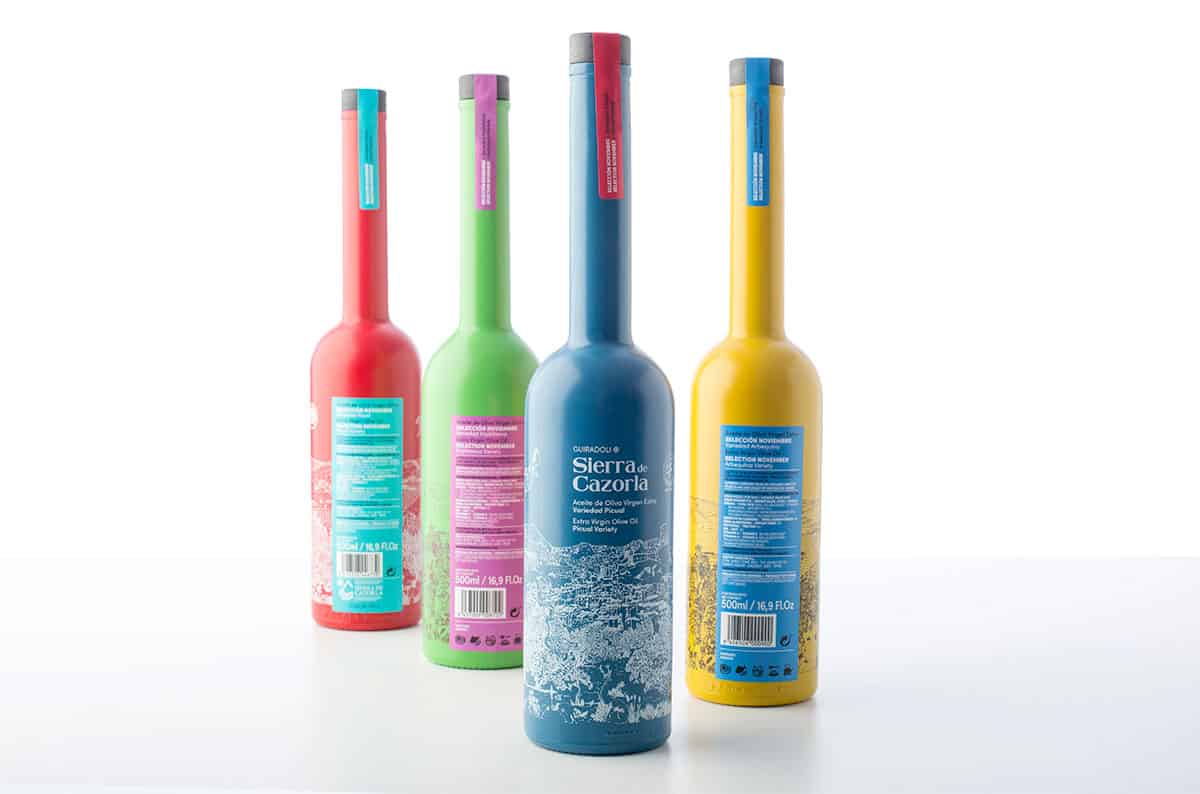 What uses can I give Sierra Oliva Picual Oil from Cazorla?
Despite its intense flavor, Sierra de Cazorla Picual is a very versatile variety and those who love cooking will be able to make the most of all its nuances. This oil is ideal raw for:
Enhance the flavor of sausages, such as ham or jerky.
Preserve many types of cheese.
Dress strong salads or sauteed vegetables.
Accompany bread and breakfasts.
Macerate meats and game.
Season tartares and carpaccios, both meat and blue fish.
Canning food.
The Picual oil variety is the more resistant to temperature change, so it is also recommended for frying and offers very good results when cooking battered and breaded foods. It also works very well to prepare stews with a long cooking period and can be used in pastries as a fatty ingredient for cakes and other sweets, instead of lard or butter.
Benefits Sierra Oliva

Variety

Picual Oil from Cazorla
A responsible consumption of Sierra de Cazorla oil in its Picual variety is very healthy for the body , mainly due to its high percentage of oleic acid and its high concentration of polyphenols, which act as natural antioxidants. It contains basic nutrients and is rich in fat-soluble vitamins A, D, K and E, making it a very effective repairer and moisturizer for the skin and hair, which will help to slow down aging. Picual olive oil is the olive oil with the highest amount of unsaturated fatty acids, this is the fats considered beneficial for health.
It can concentrate up to 85% monounsaturated fats that contribute to the prevention of cardiovascular diseases, to lower blood pressure and to promote better liver function. These healthy fats, on the other hand, help slow the deterioration of brain cells, slow down diabetes and reduce bad cholesterol and high blood pressure, as well as prevent colon cancer.
For all this, we can affirm that Sierra de Cazorla Variety Picual oil It is one of the most beneficial food products for consumers, as well as having an unbeatable flavor and aroma that will make it a valuable ally in the kitchen to add a unique touch to any dish.
Products Variety Picual Oil from Cazorla
From our olive grove to your table