Hojiblanca Oil from Cazorla
The hojiblanca variety is one of the most popular among our monovarietal oils both for its versatility and for its balance of bitterness and itching on the palate. In terms of flavor and intensity, it could be said that Hojiblanca is somewhere between the Picual variety and, for example, the Royal.
The oil lovers olive appreciate the olfactory qualities and taste of Hojiblanca, and it is usually a variety that generates quite a few followers after tasting it, due to its aroma and intense flavor with different sensations in the mouth. The ideal option is to taste it raw to perceive all its nuances.


General characteristics of the variety of Hojiblanca Oil from Cazorla 
It is extracted from hojiblancas olives, a variety of the olive tree of the same name, typical of central Andalusia, characteristic for the whitish color of the back of its leaves and for its late maturation. The harvest season varies depending on factors such as weather conditions, terrain and production quantities. Its collection involves arduous work in the harvesting work, due to the resistance of this fruit to detach from the tree. Another name given to this olive variety is Lucentina, because of the silver lights that reflect its leaves in the sun and because of its relationship with Lucena (Córdoba), the region where it is grown, among others.
The size of Hojiblancas olives is relatively larger than that of other varieties and its shape is rounded. They are very resistant and can be consumed processed like black table olives, as they have a firm and tasty pulp, in addition to being used to make olive oil of this variety. Hojiblancas olives offer a low oil yield, which does not reach 20% and usually has a greenish-golden color.
The flavor it gives off is predominantly vegetable, with a slight bitterness in the mouth and a slight final itch in the throat. When consumed you can appreciate sweet notes reminiscent of almonds, with fresh touches that evoke grass and fruit. If we look at its composition, Sierra Oliva hojiblanca oil is very balanced between fatty and saturated acids; It has a medium-high concentration of oleic acid. Finally, we must point out that the oil of the hojiblanca variety presents a degree of medium high oxidation. To avoid oxidation, we must keep it away from heat and light and avoid receiving too much oxygenation.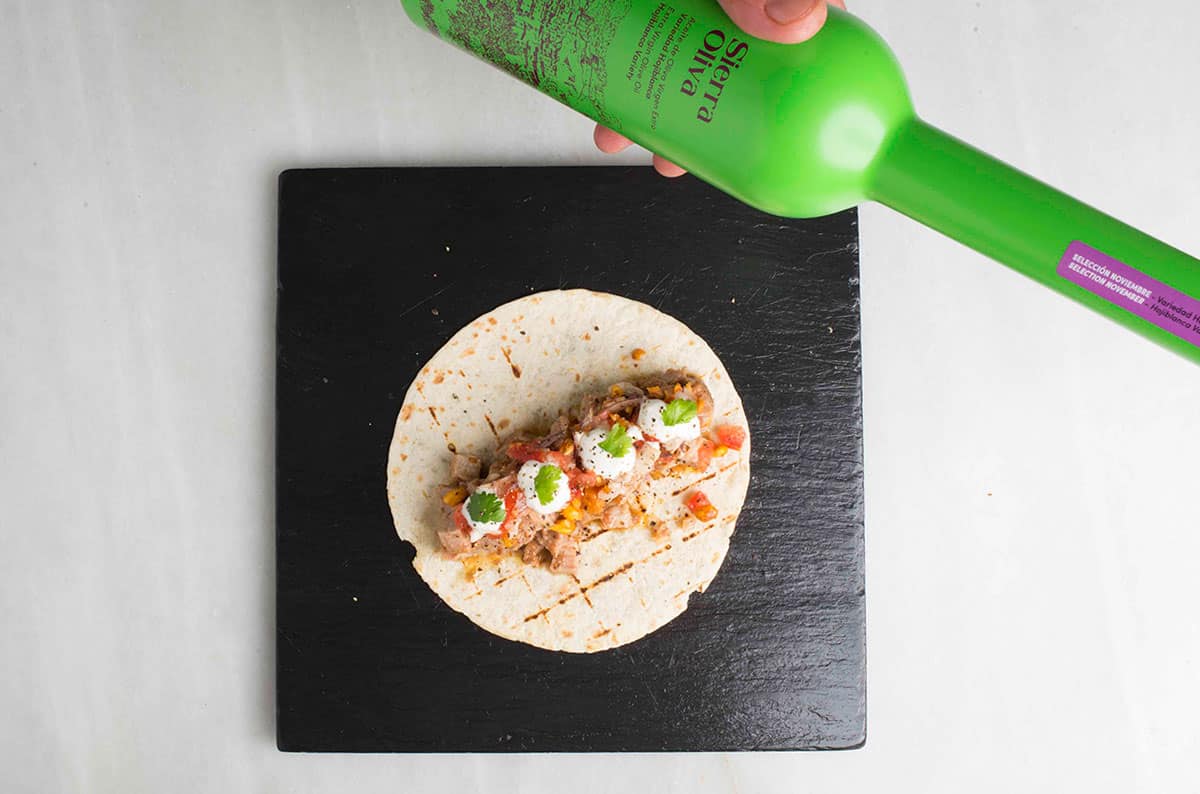 What uses can I give to Hojiblanca Olive Oil from Cazorla?
Our oil can be used interchangeably in crude oil, especially for cold uses like:
Dress salads, vegetables, pasta or rice.
Consume raw with bread, cheeses, sausages or nuts.
Enhance the flavor of dishes such as salmorejo or gazpacho.
Macerate blue fish such as salmon or tuna.
Season meat or fish carpaccios.
Emulsify sauces with powerful flavors such as mayonnaise, guacamole or aioli.
Make vinaigrettes for vegetables.
Give a special touch to cold creams and soups.
Benefits Sierra Oliva Variety Hojiblanca Oil from Cazorla
It is common to talk about how beneficial it is for the body to consume oil of olive and this variety stands out especially for its peculiarities; the best way to consume it and the most advisable way to preserve all its nutritional properties is raw. The Sierra Oliva oil in its Hojiblanca variety is characterized by maintaining a good balance between fatty acids and monounsaturated, and its vitamin D concentration is higher than that found in other varieties of olive oil.
The monounsaturated fats of hojiblanca prevent the wear of brain cells, for which delay cognitive decline. Its levels of oleic acid help regulate cholesterol, and are beneficial for the proper functioning of organs such as the heart or liver. This variety of Cazorla oil is one of those that contains less fat so it is ideal for those who are dieting, taking care of their diet or want to lose weight because, in addition, it intensifies the feeling of satiety to lunchtime.
Despite this, we should not abuse its consumption, as it contributes a large caloric load. The Hojiblanca Sierra Oliva de Cazorla oil is an excellent option to taste a good quality oil, intense but without being excessively bitter, and with just the right touch of heat.
Products Variety Hojiblanca Oil from Cazorla
From our olive grove to your table