Arbequina Oil from Cazorla
The Arbequino variety is one of the softest and sweetest of the oils. Commercially it has been gaining weight in terms of production and market, becoming one of the most popular.
It is ideal for those people who do not usually consume olive oil and for children, due to its delicate flavor, not bitter at all and with a very slight itch, which makes it fresher and more palatable.

General characteristics

of the variety of

Arbequina Oil from Cazorla
This oil is extracted from the Arbequina olive variety, native to Arbeca ( Province of Lleida), hence its name, although in recent times it has been gaining prominence in areas of Andalusia and Castilla la Mancha. The Arbequina olive tree has high productivity and a medium ripening period; In addition, it is very resistant in different soils and cold climatic conditions, a fact that has favored the expansion of its cultivation to other areas. As advantages, it should be noted that it is a fruit that detaches easily from the tree, enters production quickly and is one of the olive varieties with the highest percentage of fat yield for oil extraction.
The Arbequina olive is of size is small, with a short spherical shape and yellowish-green color. It can be used as a table olive or for the production of oil. The result is a product with a sweet and very aromatic touch, reminiscent of dried fruits such as almonds. If the harvest is early, it presents fruity aromas of banana and green apple combined with fresh notes of fruit compote. With the later olives, it acquires sweet nuances reminiscent of vanilla and ripe fruits. Very smooth on the palate and with hardly any heat in the aftertaste, characteristic of other varieties such as Picual.
It is not an oil as stable and resistant to oxidation as other varieties, due to the fact that it has a lower quantity of polyphenols in its composition, and its rancidity time is less (at most one year). Therefore, we must keep it protected from light and heat to keep it in optimal condition and extend its adequate consumption time.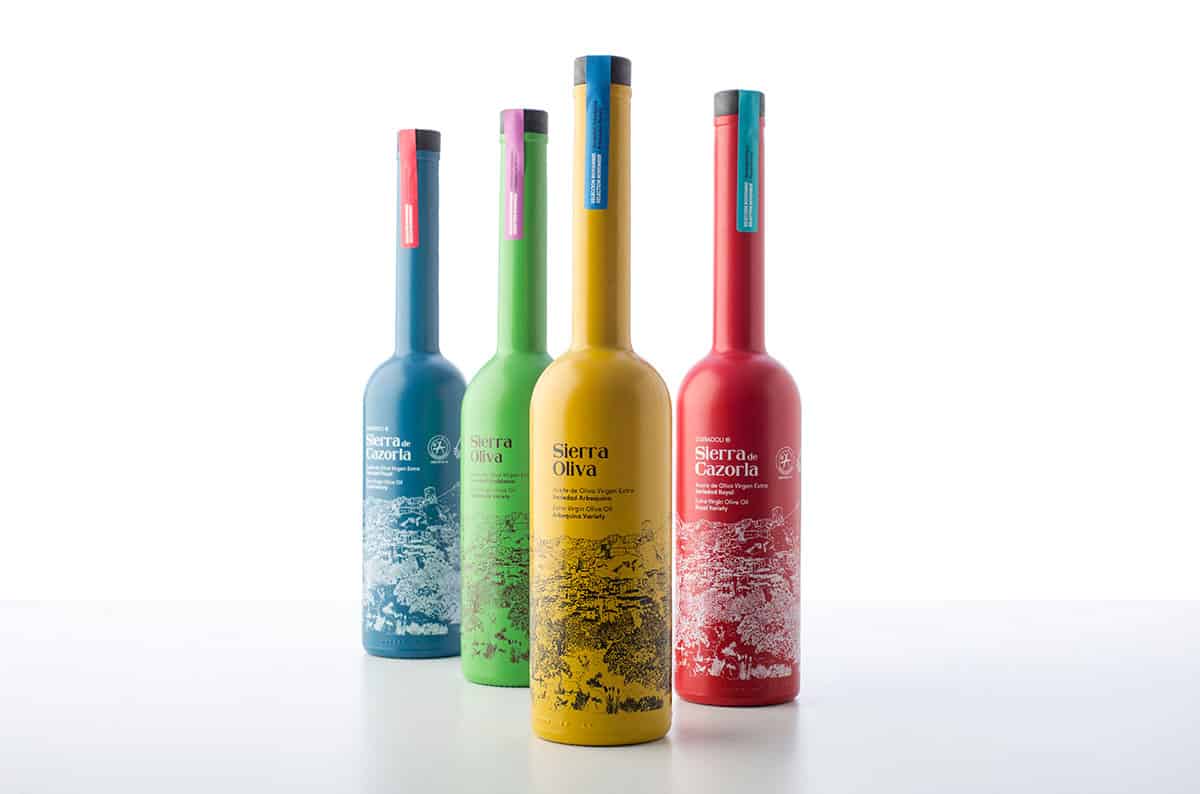 What uses can I give Sierra Oliva Arbequina Oil from Cazorla?
The subtlety of this oil, not at all bitter and without itching, makes it very versatile when introducing it in recipes, as it will not hide the flavor of other ingredients or foods with which it is mixed, providing its aroma without masking others. It is one of the most used v arieties in the kitchen for pastries and children, and it works especially well raw for:
Dress soft salads and vegetables, both cooked and raw.
Macerate fruit and jam mixtures.
Accompany bread toast and breakfast.
Assemble soft mayonnaises and delicate sauces.
Make light creams or cold soups.
Season white fish and shellfish.
Substitute butter in recipes and pastry dough, especially in cakes or muffins.
Make salty and sweet ice cream with a touch of bitterness.
Marinate anchovies, bonito or meats.
It is also suitable for taking raw, included in desserts, due to its aroma Almond and sweet that will add a special touch.
Benefits Sierra Oliva

Variety

Arbequina Oil from Cazorla
The Sierra de Cazorla Arbequina Oil, Like other varieties of extra virgin olive oil, it contains a high percentage of oleic acid, which helps to reduce the levels of cholesterol called "bad" and to produce the "good". The polyphenols present in its composition act as natural antioxidants and protect the body from premature aging and degenerative processes of the brain, such as Alzheimer's, although there are varieties such as Picual, with a higher concentration of these elements, which makes it more recommended for people with heart problems.
Due to its softness, the Arbequina Oil from Sierra de Cazorla, it is the ideal to introduce children to the consumption of olive oil, since its flavor is not aggressive on the palate, and it hardly leaves an itchy sensation. For this same reason it is one of the most exported varieties abroad, being one of the most accepted among consumers not accustomed to the characteristic flavor of olive oil. Despite all its benefits, the consumption of this oil should not be abused, as it provides high amounts of calories to the body, so we recommend its use in moderate amounts.
In conclusion, we can highlight that Sierra Oliva Arbequina Oil from the Cazorla region is a perfect variety for those looking for a delicate and subtle flavor but without losing the distinctive character of the olive "juice" that makes it special.
Products Variety Arbequina Oil from Cazorla
From our olive grove to your table